Connection to server was dropped.
Trying to restore connection...
Created games for 2 players
Loading...
There are currently no games waiting for players.
Why not
create one
?
Establishing connection failed.
Please try it in a different browser.
Please enter your nick and parameters of the new game.
These tips may help beginners become a bit better players.
Make your best advantage of bonus fields by multiplying your points in a turn.
Get rid of letters in such a way that wovels and consonants are distributed evenly in your rack.
Make value of high-valued letters by placing them on bonus fields, however, don't leave them in your rack for too long as they significantly limit possible options for words you can create.
Think about less frequent possibilities of extending existing words - perpendicularly-parallel move (see rules), or adding letter(s) for creating multiple words in one turn.
Don't give your opponent better possibilities for bonus points by making valuable bonus fields such as "3× word" accessible.
Try to have a substantial point reserve in front of your opponent, since you will lose turn if you swap your letters.
Use joker together with letters of high value which are hard to get rid of anyway.
At the end of game, let your opponent draw last letters from the sack so that you may get an extra turn to increase your chance of emptying your rack. This way you can get extra points for opponent's remaining letters while these points get deducted from his final score.
Get inspired by games other players have finished in the past,
Rules
At the beginning, every player draws seven random letters (depending on game language variant, there are around 100 letters in sack). Player order is also determined randomly.
The first player makes up a word from letters he got in his rack and places this word on the playing board so that it goes through the beginning field (middle of board). The second player must place his move adjacent to letters already present on playing board. Allowed directions are top to bottom and left to right. The players switch their turns continuously, until there are no more letters in sack. The player who empties his sack, gets bonus points for the letters his opponent still had in his rack. Points for these remaining letters are deducted from score of the player who had them in his rack. The player with most points wins.
Game ends when someone empties his rack and there are no more letters in the sack, or both players pass their turns three times in a row (please keep in mind that game is considered finished only in these situations, closing the browser is not enough).
There are special fields on the playing board:
beginning field: first word must go through here,
2× letter, 3× letter: multiply points for letters that have been placed on them,
2× word, 3× word: multiply overall points for word going through them.
Field bonuses are only awarded to first player who places letters on them. When calculating total points for a turn, letter bonuses are calculated first, and word bonuses after them. If the player used all seven letters in a signle turn and the game is not over yet, he is awarded with 50 extra points.
During the game, you may encounter two joker letters (without letter). You decide the letter it will stand for, when you place it on the board and it is unchangeable after sumbitting your turn. Point value of joker is zero.
If a player is unable to create a word, he can give up by passing turn or swapping his letters for different, random ones (provided there are still at least seven letters in the sack), but for swapping he loses his turn.
Rules for creating words, which are also automatically checked:
first word must go through beginning field,
created word must consist of at least two letters,
words played after first word must join to some of existing words on playing board,
letters played in a signle turn must be placed in a single row or single column, but it is possible to create multiple words in a single turn if words in both directions make sense.
Following pictures illustrate valid turns. New letters are lighter, just like in the game.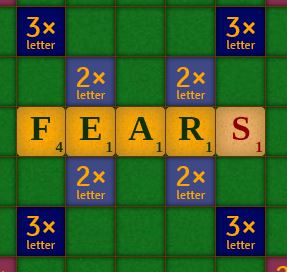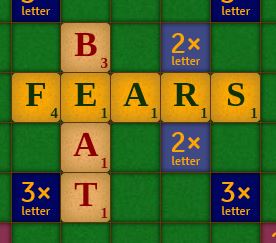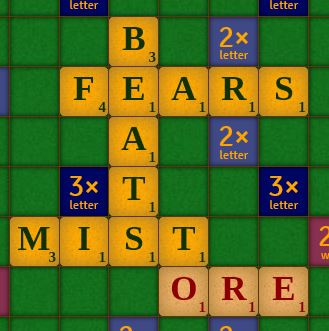 Development and maintenance of this game costs many hours of work at the expense of free time and keeping the server running costs money. By donating even a small amount, you can show that it's worth continuing.
Monthly donate amount is voluntary.
While your donating period lasts, you get the benefits outlined below. After prior agreement, it is possible to donate for more months at once.
| | | | |
| --- | --- | --- | --- |
| | Unregistered | Registered | Donor |
| Nick password protection | | | |
| Advertisements | Many | Many | None |
| Option to start private game | | | |
| XP for won game | | 10 | 20 |
| XP for lost game | | 5 | 10 |
| Max. letter swaps per game | 3 | 3 | Unlimited |
Payment options
Please enter your nick into the message for recipient field.
Beware: for cryptocurrency payments, it is not possible to enter a message for recipient. After payment is made, please contact game author with your nick.
Game SKREBL is made and cared about with in his free time by Mek, © 2022
www.mekweb.eu
Your player account has been registered. Please check your e-mail to activate it.
Please check your mail for e-mail with instructions for password reset.